Activities
Air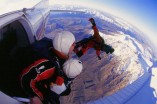 NZONE Skydiving
Tandem Skydive with NZONE Skydive in Queenstown or Rotorua and see some of the most dramatic scenery in New Zealand, from 15,000ft! NZONE were New Zealand's first tandem skydive operation, starting out in 1990. Now celebrating 22 years of skydiving, with 2 locations throughout New Zealand, NZONE are the only tandem skydive company to have been awarded the Supreme Tourism Award. With over 200,000 tandem jumps to-date, NZONE also run XLR8 Go Solo courses so you can learn to skydive solo.
Photo Packs
Have our freefall photographer jump with a camera & video on their skydive helmet and take home the most comprehensive photo pack in New Zealand! Photo packs contain CD of high resolution photos, DVD video, 20 large printed photos, 7 personalised postcards, jump certificate and online access to upload photos onto the internet.
Check out the contents of the Photo Pack.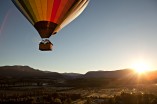 Hot Air Ballooning - Sunrise Balloons
Experience sunrise over the lakes and mountains from the serenity of a hot air balloon. Share an incredible morning with the whole family. You'll float gently with the breeze, enjoying incredible panoramic views. Inflight photos are taken during the flight & are avaliable for purchase during a champagne celebration at your landing spot.
Transport is provided to and from accommodation. Launch site is only a 10 minute drive from downtown Queenstown! Passengers need to call Sunrise Balloons 30 minutes before pick up time to find out if flight is operating (weather permitting).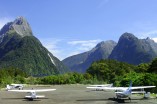 Milford Sound Scenic Flights
Milford Sound is situated on the West Coast of the South Island of New Zealand. It is a world renowned area of extraordinary beauty. Milford Sound is actually named incorrectly a sound, it actually is a true fiord, which measures 12 km long and is up to 320 metres deep.
The fiord receives an average yearly rainfall of approximately 7.5m (300 inches) because it is situated on one of the world's most formidable coastlines, which is subject to rapidly changing weather conditions. The weather is famous for its ability to deteriorate or improve within a very short period of time.
These dramatic weather patterns result in some of nature's most amazing scenery transformations, especially when viewed from one of our scenic Milford Sound flights.
At any time on the fiords visitors may see seals, dolphins, penguins and other New Zealand native wildlife.
Helicopter Flight - Snow / Glacier Landing
THE REMARKABLES
Soar to the top! The Remarkables Mountain Range dominates the eastern skyline of Queenstown. You will appreciate first-hand how these peaks have earned their name when you land 1538 metres above Queenstown. You can stand in the snow during winter and admire the stunning views across Lake Wakatipu to the Southern Alps.
SOUTHERN GLACIER EXPERIENCE
This journey offers dramatic views of the majestic Southern Alps and the Aspiring National Park. Discover the ancient icefalls of glaciers before experiencing an alpine snow landing. Stand in snow surrounded bystunning mountain peaks. Travel through bush covered valleys as you admire unparalleled views of Mount Aspiring and the mighty Rees and Dart River valleys, before traversing Lake Wakatipu's mysterious northernshores.
MILFORD SOUND
Journey through New Zealand's most dramatic scenery. This captivating flight from Queenstown to Milford Sound takes you over secluded alpine lakes, lush rainforest, through deep bush lined valleys and pastrugged mountain peaks. Experience the grandeur of the Southern Alps enroute to landing at The Divide. Fly into the heartland of Fiordland experiencing unparalleled views of world famous Milford Sound and the iconic Mitre Peak before landing at Milford Sound. Homeward, experience an alpine snow landing before returning to Queenstown.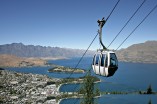 Skyline Gondola & Luge
One of the first sights to captivate visitors to Queenstown is the distinctive outline of the Skyline complex high above town. Exclusively accessed by scenic gondola rising 450m / 1500ft high above Queenstown, Skyline Queenstown is a 'must-see' attraction during your visit to Queenstown, New Zealand. The breath-taking views of Coronet Peak and The Remarkables mountain range and across the lake to Cecil and Walter Peak are truly awe-inspiring.
Skyline features a world famous restaurant serving a Taste of New Zealand buffet lunch or dinner of legendary proportions. From the Skyline complex hop on the chairlift to the scenic and advanced Luge tracks for a fun filled gravity ride on our very own designed 3 wheeled Luge carts. Experience a touch of New Zealand culture with our powerful live Kiwi Haka performance (traditional Maori song & dance). We offer extensive private function facilities, a Café, numerous walking tracks and observation viewing areas to enjoy the magnificent scenery. Plus we are a Qualmark Enviro-Bronze & Endorsed Visitor Activity.
Jet Boat - Skippers Canyon
Jet Boat - Skippers Canyon
Lord of the Rings Tour
Explore the magic that is Lord of the Rings & The Hobbit as you tour the scenes of the movies, with an array of pivotal scenes throughout the Wakatipu basin:
From the Remarkables mountains which were used as the Misty mountains & overlooking Deep Park Heights, used for the battle of the Wargs and for the refugees of Rohan, the pillars of the King in Kawarau gorge, the Ford of Bruinen in Skippers Canyon / Arrowtown then on to the top end of the lake, and the woods of Lothlorien, 12 mile Delta and the demise of the Harad army at the hands of the Gondorian rangers there are scenes aplenty for you to choose which you would like to see.
This can be offered as a ½ or a full day tour, and will be guided by an actor (subject to availability) who played several roles in the Lord of the Rings trilogy, as well as Water Horse, Prince Caspian, and several 'Amazing Races' as they came through Queenstown
We can pass through several other movie locations, Wolverine, Water Horse and The Chronicles of Narnia – Prince Caspian on the tour. We tailor this tour specifically to your requirements and the scenes that your group would like to see. Can also be a land tour / jet boat tour on request
Parasailing - Paraflights
Parasail up to 200 metres above lake Wakatipu attached by a cable to a power boat beneath you. Fly solo, tandem with a friend or take a triple flight with the family. Take your camera (just remeber to securely attach it to yourself) and photograph breathtaking views of the Remarkables, Queenstown and the surrounding areas on this magical 10 minute flight.
9am Special Offer (12pm in winter)
Book the 9am flight and receive a free t shirt and coffee valued at $30
Trip Includes
10 - 15 minute flight with amazing views of Queenstown, the lake and the mountains
Up to 1hr on the power boat depending on number of flyers
Duration
Allow 1hr from Queenstown's main pier
Departures
Every hour from 9am during daylight hours
Departs from main town pier
Other Information
You must wear suitable footwear that will not fall off in the air
Dress for the weather, remembering it can be cold in winter when you are being towed 200m in the air behind a boat
Spectators are welcome (for an additional charge)
Great for the family and those wanting to see Queenstown from the air
Triple flights must not exceed a combined weight of 200kg
EXCELLING IN GROUP PACKAGES SHOWCASING QUEENSTOWN SINCE 1999