Activities
Land
4WD tour Skippers Canyon
A ½ day back country tour with a 5th generation local family, stunning Skippers Canyon, gold mine tour, gold panning and refreshments
Picked up from your hotel in Queenstown and a guided commentary on the history of Queenstown as you travel down the 'road to riches' of Skippers Canyon, a road carved out of the hills by gold miners in their attempt to get access to the Shotover river and the gold in it's rich gravel beds.
With the opportunity to stop for photos along the journey and an informed commentary, this tour integrates the history of Skippers with today. The area is classified as an 'area of outstanding natural beauty' managed by the historic places trust, and is very much still one of our untouched and pristine back country areas
Once in Skippers you will get to meet Winky, who's family has lived in Skippers without power or water supply since they arrived with the gold rush in the 1860's. This charming lady will boil water for a cup of tea, and tell you stories of their life past and present in Skippers Canyon, show you real gold nuggets from the Shotover river, and wander through the Sainsbury gold claim and museum which they own and offer you exclusive access.
While there Winky will teach you to gold pan, and try your luck try for some 'colour in your pan' digging gravel out of the old un-mined river bed in the Sainsbury gold claim.
There is also an opportunity for groups to bring lunch and enjoy in the Canyons, utilising our exclusive venues and stunning views.
Wine Tour
The Queenstown Wine Trail offers a fun, personalised and friendly sightseeing wine tour of vineyards and wineries in New Zealand's premier wine regions – Queenstown and Central Otago. Whether your palate is well developed or simply enthusiastic, as long as you love wine , we have an experience to suit you, ranging from daily wine tours and wine combination tours to private wine tours, we can offer something perfectly tailored to you. In the local Gibbston region, just 20 minutes from Queenstown, there is an array of spectacular award winning cellar doors to visit. These include Gibbston Valley Winery, Amisfield Cellars at Lake Hayes, Peregrine Winery, Waitiri Creek Wines, Chard Farm, Brennan Wines, Remarkable Wines and Mt Rosa.
½ Day or full day Customised tour – Use your time to do exactly what you would like to do: With a multitude of options available we can customise a tour and supply the right vehicle for a spectacular day in the Southern Lakes
Sight seeing
AJ Hackett Bungy Bridge & bungy Jump options
Wineries
Arrowtown
Gold Discovery tour
Lord of the Rings scenes
Milford Sound (Full Day option)
Art galleries
Hen's Parties & Stag Do's
Golf - try one of our 6 stunning courses, of championship quality
With 6 Stunning course, you are spoilt for choice in the Southern Lakes, select a course to play or stay for a while and play them All! We have a specific section for golf as there are several course to choose from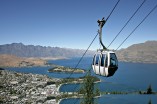 Skyline Gondola & Luge
One of the first sights to captivate visitors to Queenstown is the distinctive outline of the Skyline complex high above town. Exclusively accessed by scenic gondola rising 450m / 1500ft high above Queenstown, Skyline Queenstown is a 'must-see' attraction during your visit to Queenstown, New Zealand. The breath-taking views of Coronet Peak and The Remarkables mountain range and across the lake to Cecil and Walter Peak are truly awe-inspiring.
Skyline features a world famous restaurant serving a Taste of New Zealand buffet lunch or dinner of legendary proportions. From the Skyline complex hop on the chairlift to the scenic and advanced Luge tracks for a fun filled gravity ride on our very own designed 3 wheeled Luge carts. Experience a touch of New Zealand culture with our powerful live Kiwi Haka performance (traditional Maori song & dance). We offer extensive private function facilities, a Café, numerous walking tracks and observation viewing areas to enjoy the magnificent scenery. Plus we are a Qualmark Enviro-Bronze & Endorsed Visitor Activity.
With some of the most stunning scenery available on our doorstep, we are a gateway to some stunning walking tracks, whether you are an experienced hiker or a city lover who would like to experience nature first hand we have the right walk for you. From short local walks along the lake edge to sampling one of our great walks (Routeburn, Milford, Keplar tracks) we can assist with a memorable experience, getting you there and back and all the correct clothing to make you walk enjoyable and fun.
We recommend allowing at least a ½ day for this activity, or combining two half day walks with a relaxing lunch in between to showcase a variety of the Southern Alps differing scenery. Choices include Native bush walks, Alpine hiking through alpine tussock and wind swept ranges, rugged mining relics in Skippers Canyon, Alpine traverses through the Southern Alps
If you are interested in walking the Routeburn track, we can assist with transport to / from the Routeburn hut & The Divide at the other end, and sourcing hut passes with DOC.
Onsen Hotpools
Onsen Hot Pools are hot and steamy on snowy days, warm and sheltered on rainy days, cool and shady on sunny days, and simply magical in the evenings! Each pool room can accommodate up to four adults and are perfect for individuals, couples, families and friends.
Water temperature is set according to the day - generally between 37.8C on a hot day, to 39.8C during a snow-storm. If you have a temperature preference, tell us when you book and your pool will be just right when you arrive! If you find yourself overheating, add cold water to your pool with the push of a button. Alternatively, in the summer we keep one of our pools cold for those who relish the thought of a cold plunge!
A unique feature of Onsen Hot Pools are the retractable picture windows: Convert your pool room from indoor to outdoor and back again at the touch of a button!
Plenty of car parking is available close to Arthurs Point Road, just behind 'The Barn', with the main building located about 100m further away from the road.
A large airy reception and waiting area provides a cosy, comfortable environment for relaxing and chatting with friends after your invigorating soak. Our outdoor sundeck has one of the most impressive views in the whole of Queenstown, so expect to spend a little time before or after your soak taking it all in!
Break One
You can't drive the jetboat or fly the helicopter, but come shooting with Break One Clay Target Sports and YOU can shoot the Beretta 12 gauge shotgun!
Share our passion for clay target shooting in this fun filled and unique activity. Whether a novice or a top gun, our experienced, professional instructors will guide you in the popular sport of clay target shooting. With firearms suitable for both men and women, low recoil ammunition, and lots of hot tips, we personally guarantee that you'll hit a target – and have fun doing it!
Two shooting options ensure that both first time shooters and the more experienced will have a fantastic time:
Clay Target Experience
This is perfect for the first time shooter. We provide full instruction, followed by a scored competition shooting a variety of clay targets – an ideal and exciting introduction to Clay target Shooting – and a great way for friends to compete against each other! $135 per person
Clay Target Challenge
The Clay Target Challenge includes the full Clay Target Experience then followed by the Beretta Challenge, shooting 4 clay targets at once – perfect for the keen shooter or those looking for a real thrill! $155 per person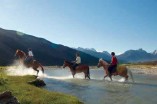 Horse Riding - High Country Horses
Come and enjoy the beautiful scenery by horse back. Our rides take you through glacial fed rivers with stunning mountain backdrops.
Our Rides
Get away from it all and come experience the unique tranquillity of the Glenorchy Basin with more than 95,000 acres.
Rees River Ride
This one hour trek is ideal riding for the novice rider, small groups and young families. Be tutored on your mount before heading out over our farm and onto the riverbed.
Paradise on The Rees
Taking the best of the Rees Valley and showcasing it to you. A perfect half day option for Experienced and Novice riders. Enjoy the stunning scenery of the top of the lake with picturesque Mountain views, and glacial fed river-crossings.
Full Day Options
High Country Horses are proud to showcase our vast pristine valleys to you. You will have choices of Mountain trails, Glacial-fed Rivers, incredible lakes and Valley floors. We have exclusive trails that can take you to historical sites, up to the highest elevation for spectacular views, or wander through forest areas. River-crossing are also not to be missed either.
Overnight Retreat
This is an opportunity to step back in time Travel by horse back and spend a night in a musterers hut deep in the Rees Valley. Check out the beautiful waterfalls, chasms and the crystal clear Rees River. We can cater multi-day treks up to five days. All food and accommodation included.
EXCELLING IN GROUP PACKAGES SHOWCASING QUEENSTOWN SINCE 1999